I'm planning what the contents of my post-pandemic wine cellar should look like (can't hang on to wine long enough right now to cellar it).
Yesterday I posted most of the great wines that my Twitter pals recommended but I wanted to give the wines recommended by my friend, Ross Macfarlane, an entire post. Ross is a lawyer (and former student of mine!) who lives in Niagara, and he is a member of Les Marmitons of Niagara, a gourmet cooking club, so I knew he would have some great suggestions. (Here's a great story about the club, and how Ross actually created this chapter of it: he's now the International President of Les Marmitons.)
Ross posts on Twitter as @niagaramarmiton and in response to my request for his help in choosing wines for a wine cellar, he writes:
"It's a great time to start stocking your cellar, because most of the wineries are offering free shipping in Ontario with a minimum purchase. My favourite varietals in Niagara are Pinot Noir and Riesling. That said, we make some great wines across the board. You have already mentioned @Rosewoodwine and @CaveSpring which are two of my favourites.

"For great Pinot Noirs and Chardonnays, I love Domaine Queylus and @Bachelder_wines. The dry riesling from @VinelandEstates is one of the best value whites around. @back10cellars does great sparkling, chardonnay, and cab franc. @StratusWines is known for their blends, and both reds and whites are great. Also love @BigHeadWine reds. I'm a big fan of the rose from @goodearthtweets and I'm on the board for the @NCTWinery so I would be remiss not to mention the fantastic wines made there! This is not an exhaustive list, and there are lots of others making dynamite wines here."
Okay, so I had mentioned Rosewood Wines and Cave Spring as my starting points on Twitter. Rosewood is a new discovery of mine, thanks to my daughter, who sent me a box of their wines for Mother's Day. So far I've only tried White Rabbit but it's fabulous! This vineyard is also a beekeeping operation, and I adore their packaging.
This one was so good, I ordered more and I now have Rosewood's Looking Glass and Riesling in my collection.
I had never heard of Domaine Queylus before, but they are located in St. Anns. Their Pinot Noir, Tradition, is priced at $ 31.95/bottle.
Bachelder is another Niagara vineyard. Their Pinot Noir is  priced at $ 240/ six bottles and their three terroir Chardonnay is priced at $ 248.10/six bottles.  Here's a blog post about their Chardonnays I came across; these sound terrific!
Vineland Estates is having free shipping if you buy six or more bottles. Their restaurant is currently offering take out as well with curbside pickup. A lot of their wines are priced at $ 14.95, which is very reasonable! You can check them out here. But best of all, the dry Riesling that Ross recommends is one of them.
Back10Cellars is another interesting looking pick. They have a wine club as well as online orders.  Their sparkling wine (Smitten) is $24.95/bottle, the Chardonnay is $ 27.95/bottle,  and the  Cabernet Franc is $ 28.95/bottle.
Stratus, which Ross recommends for reds and whites, is offering free shipping for orders over $ 100 with a product code that you'll see when you visit their website.
I wasn't able to log in to Big Head Wines: I entered my birthdate and it didn't want to recognize me for some reason (that's when you know you're getting old. I don't want to recognize it either). But you may have better luck.
Good Earth Food and Wines, another Beamsville vineyard,  is offering free shipping on orders of over $ 120. Their prices range from $ 17.95/bottle to around $30/bottle with most varieties falling in between.
And finally, as Ross mentions, he sits on the board of the Niagara College Teaching Winery. I had problems logging in to their website as well but they sent me some pictures on Twitter of their menu: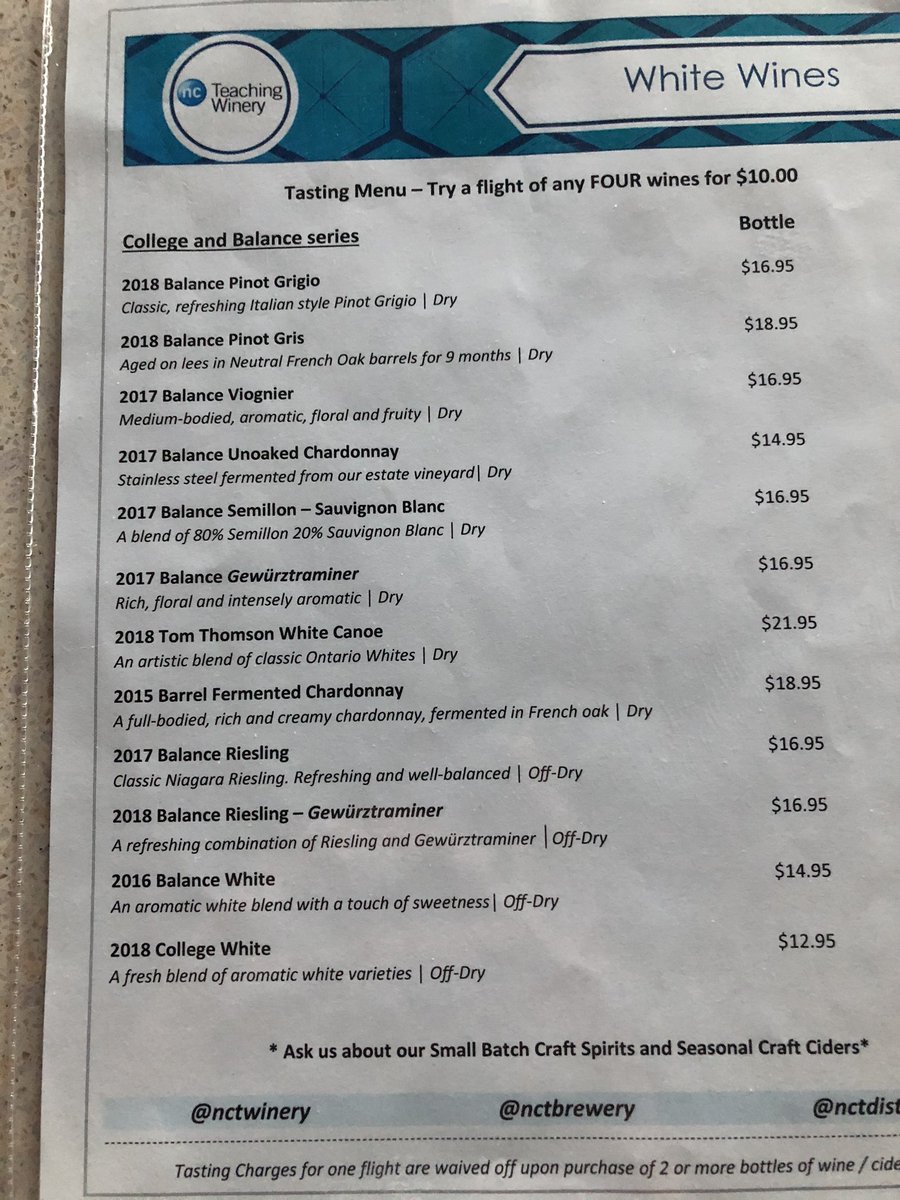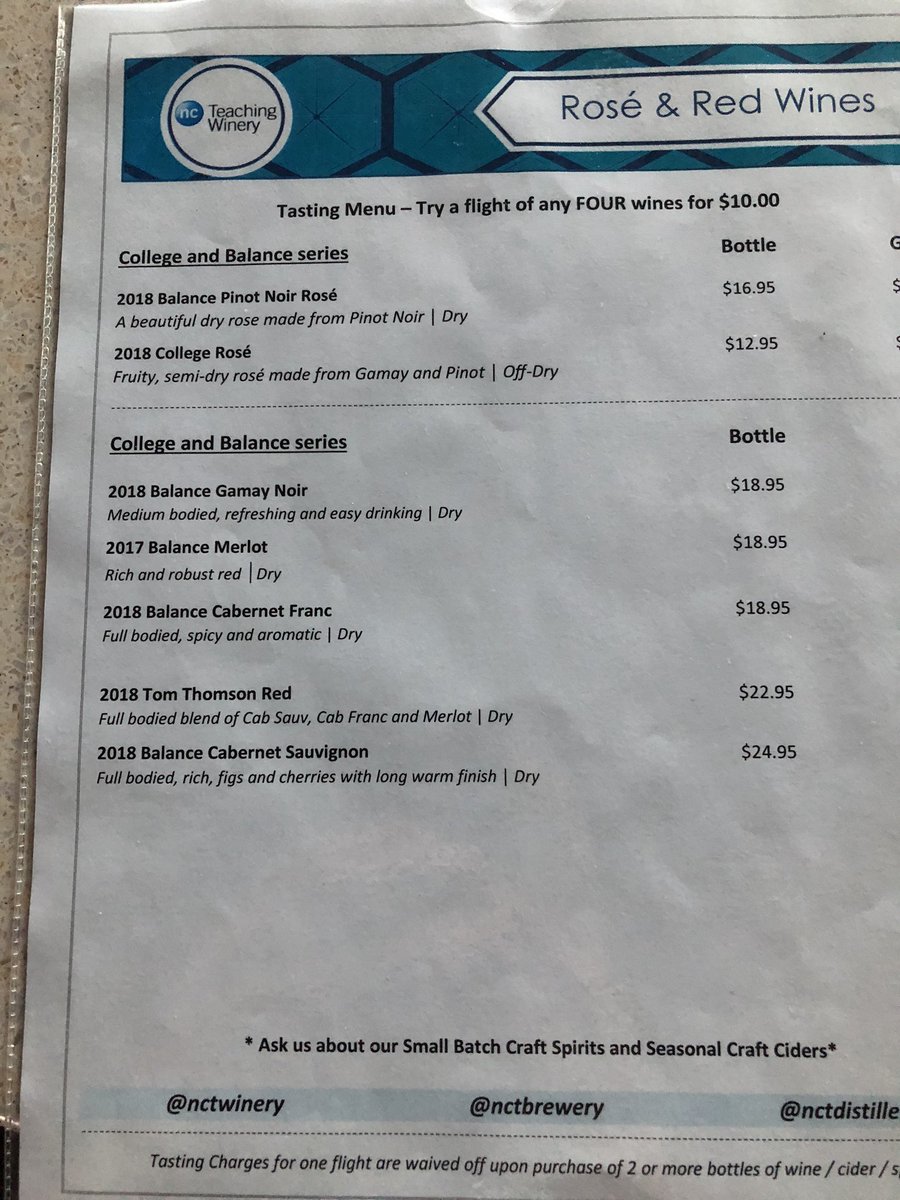 They are offering 15% off if you buy 12 or more bottles! Free Province wide shipping and you can order online at http://niagaracollewine.ca  or call them at 905.641.2252 ext 4070.
So, all great suggestions and thanks so much, Ross! Looking forward to trying all of them and creating a great wine cellar!