Ontario is facing massive flooding at the moment; the photographs coming out of places like Rockland, east of Ottawa, and Gatineau, on the other side of the river, are astonishing. (Photos courtesy of http://www.cbc.ca)
We have a lot of parts of the city where homes are constructed on flood plains; in some areas, like Britannia Heights, berms that were constructed a few years ago are holding, but in others, anxious homeowners are watching their belongings float away.
What can you do to protect your home now and in the future?
If you know you're in a flood plain, move your valuables to the second floor and put your furniture up on blocks if you can. But the most important thing once the flooding starts is to get out of there ASAP.  Evacuation in Ottawa is not mandatory at the moment, but it's not a good idea to stay in your home; it's going to be very hard for first responders to get to you if there's a problem. (Photo courtesy of 1310 News)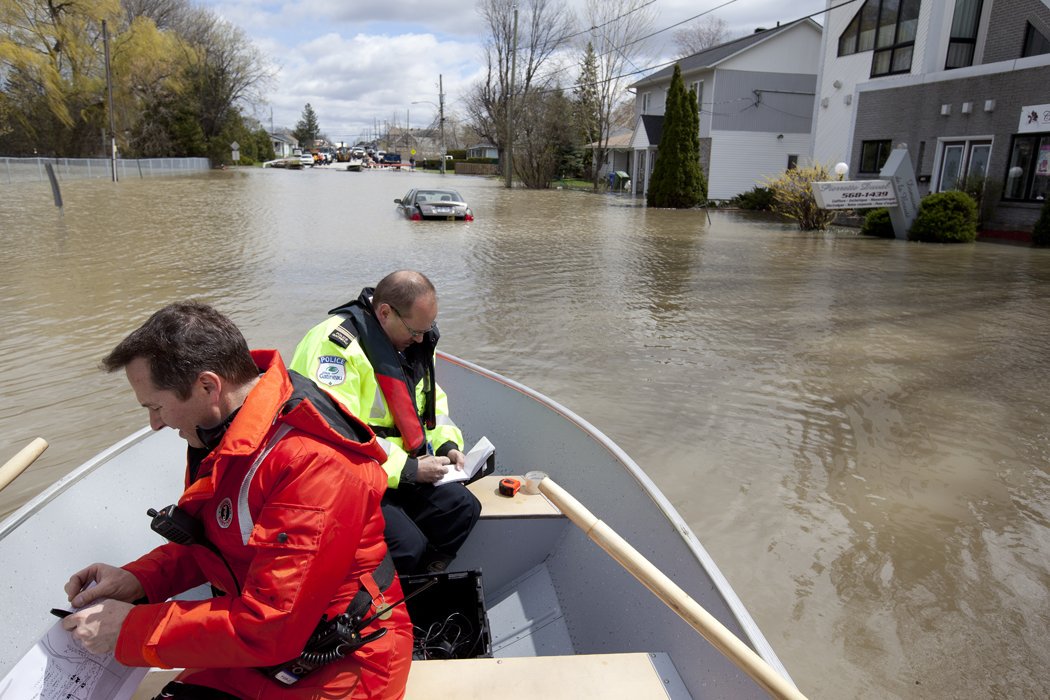 Turn off your power. If  water has reached your wall plugs or is above your baseboard heaters, do not enter the basement: there is a serious risk of electrocution. Don't take any chances by going back in again on your own, either. And once you do re-enter, after the water level has gone down, do not turn the power on yourself: let your utility company do that. They will have to disconnect the meter first.
Once you are safely out of your home, call your insurance company to find out if you're covered.  Flooding is considered an Act of God and may not be included in your policy unless you paid the extra premiums for a rider.
If you are insured, your insurance company can give you advice on what to do next: you may be covered for hotel and other expenses while you are out of your home.If not, call your city councillor. In some parts of the city, hotel rooms have been reserved and other spaces have been set aside. You're not alone.
Once the flooding is over, take pictures and make a list of the damage. But don't just assume that because  the water is gone that your property is safe to live in. There may be mould  behind the drywall.
If  you are insured, your insurance adjuster will take care of remediation, but if you aren't, get someone with a thermal imaging camera over to take a look and  see what's damp (most home inspectors have these). Drywall wicks water: whatever is wet needs to go. Pull it all up: carpet, drywall, plywood, anything that's wet.
Mould can ruin a house quickly and the spores travel from room to room. With warm weather around the corner, you've really got to get anything damp out of the house or dry it out as soon as you can. Use plenty of fans; open the windows.  Wipe down walls with bleach or a product specific to mould, and be sure wear a face mask. Throw out anything that got soaked that can't be salvaged. That includes the appliances if they got wet, too – don't take a chance on anything electrical. Wires  might short out and cause a fire or worse.
After all your efforts if you see signs of mould, hire a contractor that can deal with mould remediation.
Flooding can happen any time — it isn't always from weather, it can come from burst pipes or a sewer backup. Be sure you have that extra coverage when you renew your policy next year; for the extra $ 80 or so bucks, it's well worth it.
One more thing: Ontario has a Disaster Recovery Program that can help with repair costs once you've dealt with insurance, or don't have it. It's a $ 500 deductible and you only have 120 days to apply. Be sure to keep a list of all damaged items, and remember to hang onto those photographs. Here's the link.
And if you aren't affected and want to help, the City of Ottawa doesn't need volunteers but Gatineau does need help with sandbags. You can call 819-595-2002 to find out more or call 3-1-1 if you are in Gatineau. Finally, Constance Bay Community Centre has put out a call for volunteers to help with sandbagging efforts.